An average person installs roughly 60 to 90 mobile apps on his or her smartphone. And an average U.S. smartphone user receives 46 push notifications daily from these apps. Due to the frequency of these notifications, smartphone users typically turn off most of them or simply do not pay attention to the messages being sent.
But push notifications sent through the browser can have a significant role in remarketing and can even increase website engagement.
The guide below sheds light on what push messages are and how website owners can utilize them to stand out among competitors who are also struggling to get their users' attention.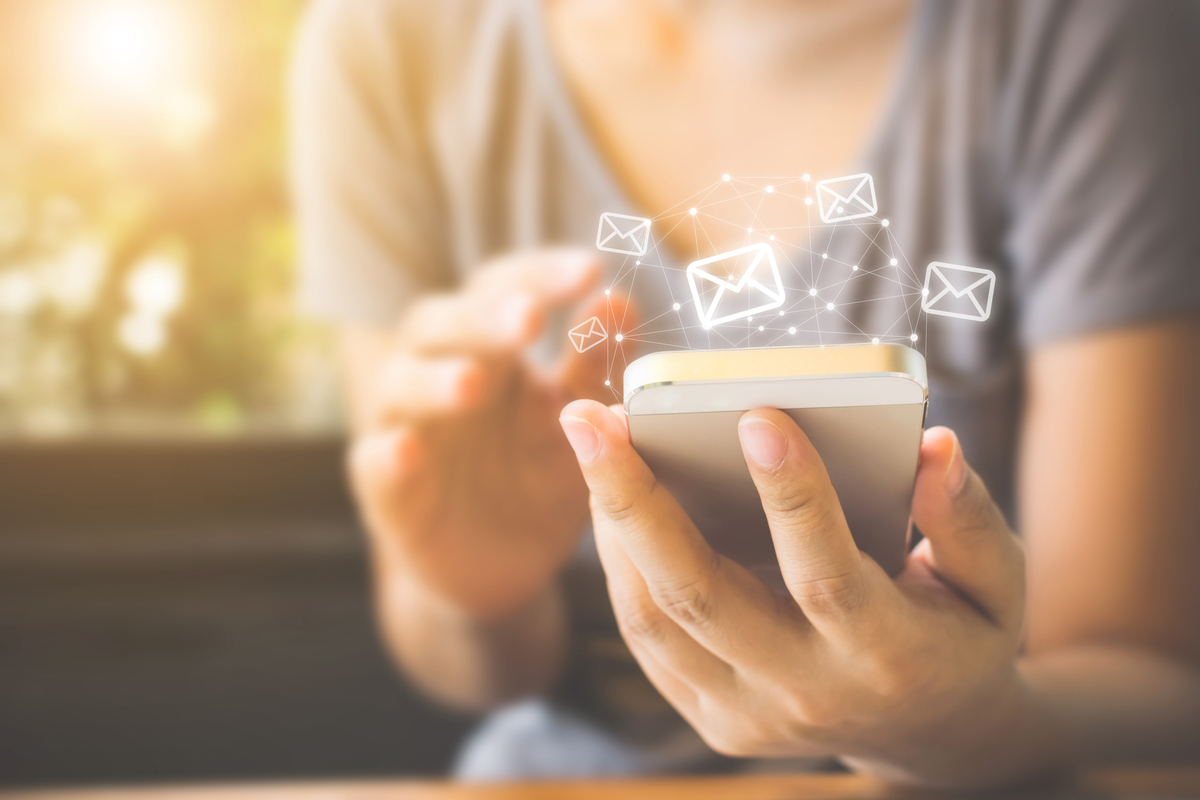 What is a push notification?
Push notifications are short messages that are sent to website visitors or mobile app users. In order to be visible to users, the website or app typically asks for permission, and only after that does the user start getting alerts. Here is an example of a request: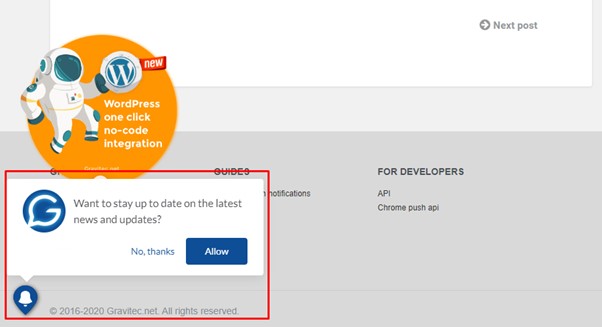 The character limit for each push notification differs from browser to browser and depends on if the smartphone owner is an IOS or Android user. According to Gravitec, notifications on Android devices can contain up to 240 characters in the body text. IOS allows push messages that contain up to 178 characters.
Push notifications are typically composed of a title, main text, and a link attached to it. Marketers can also add icons, images, and videos to make their notifications look more appealing.
The goal of these notifications is to get the user interested in the message and trigger an action that will engage the intended app or website. Push messages can ask to read a blog post, view breaking news, make a purchase, etc.
How does a push notification work?
Push messages work differently on desktop and mobile devices. When a visitor is on your website, you always have to ask permission to enable a pop-up and earn the right to show notifications on the desktop.
Things work differently when the user has installed your app on his or her mobile device. For Android users, push notifications are automatically allowed on the device. For IOS users, on the other hand, you again have to ask for permission as would be the case on a non-mobile device.
Push notifications are mainly associated with mobile apps and are widely used in mobile app marketing.
For example, in the event that a user has downloaded your app, has used it for a few days, and forgotten about it, you would naturally want to draw his or her attention back to your app. Here's when push messages can come in handy.
Your push notification will appear on your user's lock screen. Your user will see your call to action and is presented with the opportunity to launch your app to follow it.
What types of push notifications exist?
There are two types of push messages: desktop and mobile.
App and website owners can determine which type of notification will best serve their purpose, depending on if they want to share news, blog posts, discounts, reminders, etc.
For example, for a new online store app, it might make sense to send buyers notifications such as these:
Special offers (free shipping on special products, free shipping on orders over $X, buy one get one, etc)
Shopping cart abandonment reminder (encourage to complete the payment process)
Delivery info (tracking number, product location, etc)
Or if you are a SaaS company who happens to have a mobile app, you can send the following updates:
new features and product updates,
discounts on higher plans,
free trial expiration,
referral incentives, etc.
How do push notifications help digital marketers?
Notifications can also aid in earning new subscribers faster than an email or SMS marketing campaign might. Users may be more willing to opt for notification because they typically don't require them to submit names, email addresses, or phone numbers.
With notifications, you connect with your users and website visitors by identifying their devices, which can make the opt-in process smoother. The only action users typically need to take to opt-in is to click on an "Allow" button.
Another potentially appealing factor about push notifications is that they are typically inexpensive. This allows marketers to not only use the tool with a small budget but also gives them the opportunity to do the following:
draw user's attention,
increase user engagement (drive clicks),
increase conversion rate (drive sales),
improve business-user communication,
share quick updates, offers right on people's mobile devices.
How to send push notifications?
As aforementioned, sending push notifications is an expensive form of remarketing. Platform owners are also able to find third-party software that will charge monthly fees and provide advanced features and analytics.  Whether you choose a paid or a free plan depends on how many subscribers you plan to reach and what benefits you expect. Here are three software that can help with notification management:
Adrack allows you to send web push notifications to subscribers and offers a 14-day free trial for the Professional Plan. You get access to an easy-to-use dashboard and a JavaScript code that you can easily add to your website. Once you are done with setting up, you can segment your audience and send automated and scheduled messages. Adrack is an all-in-one marketing platform and is not limited to offering a web push messaging service. This service can also help with other marketing activities such as creating pop-ups, managing clicks, and organizing your lead distribution system.
Sendpulse allows you to send unlimited web push notifications to up to 10 thousand subscribers. However, users will not be able to send mobile notifications with Sendpulse's free plan. With this tool, you can create automated and personalized messages.
Pushwoosh allows users to reach up to 1,000 devices and create custom campaigns for free.
Some other viable push notification services include APNS (Apple Push Notification Service) and FCM (Firebase Cloud Messaging, formerly Google Cloud Messaging).
While APNS allows you to send push notifications on Apple devices, FCM allows the same on Android, IOS, and web. These services are free as well.
What's the difference between push and in-app notifications?
In-app notifications are displayed within an app, while a user is engaged with the app. Push notifications, however, are displayed on the user's mobile device or desktop when they are not on the app or on the website.
Push and in-app notifications also differ in the context in which they are used. In-app notifications can be great to invite users to product tours, guide through the app, onboard, notify about in-app activities, etc. And while you can technically share the same information via push messages as well, you generally would not want to overwhelm your user's lock screen with tens of messages. Instead, you might prefer to leverage push messages to share time-sensitive offers or use them to bring inactive users back to your app.
Platform owners should note that users can choose to opt-out of push notifications at any time. To this end, it would make sense not to abuse your user's trust by sending overwhelming amounts of notifications.
Do push notifications really work?
Like other marketing tactics, push notifications can be effective if platform owners follow best practices, test, and pay attention to simple rules. It is best to avoid practices such as these:
Sending updates too frequently
Notifying users about inappropriate or non-important updates
Breaking your promises (sending something your subscriber has not given consent to)
Here are  7 best practices that you can start following that may help you win more subscribers and retain them in the long-run
Wait before you ask: One big mistake marketers are making is acting in haste. Give your user time to evaluate your website, get acquainted with features, and enjoy it. When your user starts getting value from your site and is actively making actions, it might be time to show an opt-in.
Set clear expectations about the context and frequency: "Allow notifications on this device?" isn't exciting at all. Though it is short and straightforward, it does not necessarily give a good reason for a user to say "Yes", and users may not understand what to expect, when or how often.Instead, you can state that users are going to receive special offers, discount alerts, tips, news, or the like. As for frequency, it depends on your website's category. Websites in the news category can send important developments three to four times a day. Fitness or similar lifestyle sites can again send three to four push messages daily. Here's an example from MyFitnessPal:Sites that are not for daily usage are typically not recommended to notify users daily. The frequency can range between once a day to a few times a week depending on how your subscribers react and how important your updates actually are.Here's an example from ClickZ. They mention what the user should expect to receive – "latest articles and reports." Besides, the company warns that notifications can be turned off anytime. People might agree to take action more easily when you give them the freedom to back down whenever they want.
Make your offers time-sensitive: Great marketers know that special offers and discounts should not last forever. If you don't put a deadline, your customers might not hurry to take action. Although your push notifications cannot be too long, a small note like "Ends [month/date]" will take only a little space. And due to that small note, you can encourage people to act quickly and increase your sales. This practice is mainly applicable for eCommerce businesses that sell products and use their site mainly to ensure purchases.
Tell what needs to be done: "Book now," "Order now," and "Buy today" are examples of Calls To Actions (CTA) that are specific and motivating. Your CTA does not have to be at the end of the notification. You can start your message with it by saying "Buy one get one," or "Complete your summer look with 2 new items." Note that not all of your push notifications need to have transactional CTAs. Some of them may just ask to Read, Watch, View, etc.
Segment based on location, interests, etc: Segmentation proves your level of professionalism. For example, if you are a cafe and see your app user is near your location, you can notify him or her about your new coffee or ice cream flavor, and thus encourage them to visit you.Segmenting subscribers can create difficulties if you are a small business and your subscriber base is small. As a consequence, you may not be able to effectively analyze your campaigns after launching them. This is why large companies mostly utilize this feature.
Pique curiosity with attention-grabbing tricks: Soley text-based messages do not always motivate the user to read them. Consider that your users probably have opted into other push campaigns as well and are receiving notifications from them too. You can use Emojis, caps, icons, images, GIFs, etc to spice up your text. Additionally, when you want to emphasize a word in your message, you may write it in all caps.Writing your whole message in all caps and adding too many special symbols (!, %, etc.) can make your notification look untrustworthy. Lastly, you may not want to make your messages too long because they might not fully appear on the mobile device due to its operating system and screen size.
Use rich media features: Rich media features include audio, video, and other elements that bring interactivity to your push notifications. While they may require more effort and higher quality than ordinary messages, the results can be promising. According to Sizmek, an expandable rich media banner is more than 45 times more effective than a standard advertisement.